Wazee Lake Recreational Area.
Black River Falls, Wisconsin.
Altitude Dive, use 1000 ft. as your base.
---
Site Information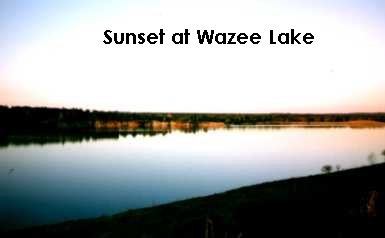 Wazee Lake is fast becoming one of the most popluar scuba diving sites in the Midwest. It's exceptionally clear, deep water combine to create a fascinating dive site for the experienced and novice scuba diver alike.
The lake is the site of the former Jackson County Iron Mine quarry. The mine was in operation from the early sixities until April of 1983. Approximately 850,000 tons of iron rich taconite pellets were produced at the mine each year, with the bulk of them used for steel production in mills located in East Chicago, Indiana. A crash of the domestic steel markets in the United States contributed to the decision to close the mine.

While the mine was actively producing ore, several high capacity pumps expelled more than 800 gallons of water per minute from the quarry. Once the pumps were removed, the quarry began filling this unique lake.
Today, Wazee Lake is recognized as the deepest inland man-made lake in the state of Wisconsin with a maximum depth of 355 ft. Visibility in the lake averages 30-40 feetduring the summer months. Water temperatures run from approximately 70 degrees at the surface to 40 degrees below the thermocline. The thermocline depth varies during summer, but averages about 30 feet. Divers who ventures to greater depths will encounter a second thermocline at approximately 60 ft. where the temperature drops to a chilly 34 degrees. Use of a drysuit is recommended for deep diving in the lake.
A series of circular haul roads wind around pit, where divers often find artifacts including chains, pipes, taconite pellets, and iron shovel teeth. Massive boulders and sheer cliff faces create challenging and interesting features for the more experienced diver.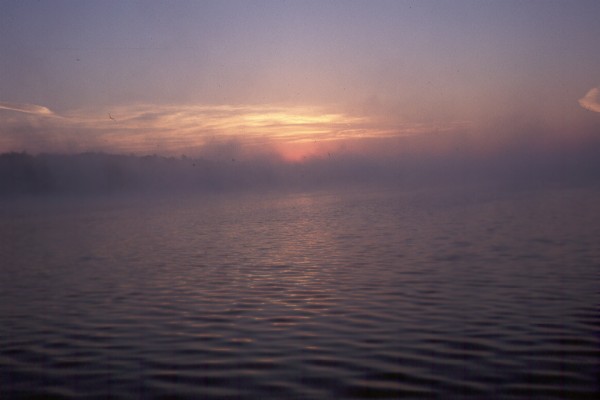 Wazee Sunrise at Sherwood Forest. @1998
Divers may encounter several groups of fish cribs as well as 4 platforms and to improve the habitat for the fish species that are found in the lake. These species include rainbow, brook and brown trout, bluegills, suckers, catfish and smallmouth bass.
There are 3 main entances to Wazee Lake. 1. The west side boat launch, where there is a steep road incline down to water, This offers the a shallow area that will drop immediately to 40ft. This offers the quickest point to depth. 2. The North boat ramp is the entrance to Sherwood forest. 3. South side offers the shallowest entrance.
There are primative campsites on the grounds (15 sites) at a first come- first serve basis. Water and toilet facilites are available.
Directions
Located near Black River Falls, Wi. about 6 miles off of I-94. From Chicago, take I-90 (Northwest Tollway) north to the I-90/I94 split. Follow I-94 (Eau Claire) for another 25 miles to the 1st Black River Falls exit (Hwy 54), Turn right (or east) and go about 1/2 mile, turn left on Bauer Road (across from the Wazee Dive Shop and Super 8 Motel). Follow this road for approx. 5 miles to the stop sign (Brockway Road). Turn left and go approx 1/2 to the Wazee Lake Recreational Area. Turn Right to enter. Follow road for about 1 1/2 miles and stop and register at the guard station. If no one is there, self register. Dive fees are either $7.50 per day or $65.00 for the year (1998). Dive fees are required all year. Admission fees are $2.00 per vechile/per day or $10.00 per vechile/per year (required between Memorial Day and Labor Day). Camping fees are $10.00 per night per site.

Air fills and diving equipment is availabe at the Wazee Diver Center located at Bauer Road and Hwy. 54 back near the interstate. There are several motel available in the area.

Wazee Dive Center
North 5881 Highway 54
Black River Falls WI 54615
(715) 284-5181

M A P
Area Lodging
Personal Note
There is plenty lot to see with the ledges, fish cribs and trees. There are many ledges and spots to dive. Diving through Sherwood forest the first time is a awsome sight. This is my favorite lake for night diving, watch the sunset and then do a late dive, at 10 PM to see the bigger fish, they come out to feed at night. Call ahead to make sure the dive store is open to get air fills. There are several camp sites in the area if camp ground is filled. Molly's in town is a very good resturant. Ice diving is said to be extermly good. Camping is available in the park, there are also several public and private campgrounds available if the park is full. Best to make reservations if you decide on using motels, as they are filled most weekends.
Statistics
Maximum Depth
355 ft.
Maximum Visibility
15-80 ft.
Temperature Range
38-75
---

Return to Dive Sites
http://members.tripod.com/cavdvr/wazee.htm
Last revised on June 19, 1999