Straights Underwater Preserve.
Straights of Mackinaw
Lake Michigan - Lake Huron, Michigan
---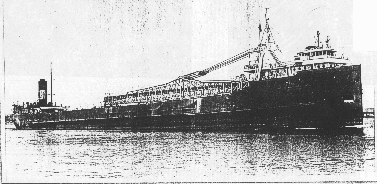 The 148 square miles of the Straits of Mackinac Underwater Preserve host a variety of underwater attractions. Not the least of which is an excellent shore dive in St. Ignace Harbor. The St. Ignace Harbor served the third-oldest city in the U.S. As a result, artifacts from man's earliest presence may be found in this area.The best area of the harbor to dive is the northernmost portion, away from the busy ferry traffic that transports visitors to Mackinac Island. There is a boat launch at the end of the harbor and divers can swim about two hundred yards to an old breakwall. In this area, divers will find an unidentified shipwreck, piles of slabwood, tools, crockery, dinnerware and a variety of other household items that tell the story of this region's maritime heritage. The advantage of diving in this area is that it is protected so that heavy seas rarely interrupt a dive, and because the depth is only 15 feet or less, visibility is excellent and the water is often warmer than in other portions of Lake Huron. Visibility in the harbor is usually greater than ten feet but rarely exceeds 30 feet. Although this is a great dive for beginners, divers of all skill levels will find it a fascinating exploration into the past. The Straits of Mackinac Underwater Preserve also has its share of shipwrecks. Among them is the CEDARVILLE, which was a 588 foot, self-unloading freighter that sank with a load of limestone in 1965. The CEDARVILLE was heading west and approaching the Straits of Mackinac in a light fog when it was struck by another ship. The CEDARVILLE capsized in about 110 feet of water, with the hull of the ship within 35 feet of the surface. The ship's superstructure and cabins lie at 75 feet and provide exciting exploration opportunities. This dive is suitable for divers of intermediate to advanced levels. Visibility ranges from two to 20 feet, depending upon currents that are sometimes found in this area. Another popular dive site in this preserve is the wreck of the SANDUSKY. This 110 foot sailing vessel had two masts and a square stern. It sank in a gale in September 1856. The cool, fresh water of the Great Lakes has preserved this vessel well. It sits upright in about 90 feet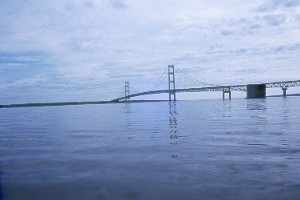 of water. Although the masts have been broken off, most main features remain, including a kedge anchor, pin rail, wheel and tiller. Divers will also find a figurehead at the bow of the SANDUSKY. The original ram's head was nearly stolen by vandals who had loosened it. Sport divers arranged to have the artifact removed and conserved; it was replaced by a replica soon after the rescue effort. This dive site is suitable for intermediate to advanced divers. Visibility ranges from two to 15 feet.
Shipwreck Information A link to an outside Information source.
Shipwrecks that I have dove in the area.
Minneapolis

Location : About 500 feet southwest of the Mackinac Bridge's Main south tower.
Type : 226 Ft Wooden-hulled steamer.
Loran : 31226.2/48111.2
Lat/Lon : 45 48.32/84 45.54
Depth : 75-125 feet.
Visability : 2-15 feet depending on current conditions.
Tips : Use extreme caution when diving this wreck due to poor visibility and currents.
This site is buoyed.
Cedarville
Location : About 3.5 miles southeast of the center of the Mackinac Bridge; from Old Mackinac point
about 2.8 miles on a bearing of 89 degrees.
Type : 588 Ft Steel freighter.
Loran : 31210.7/48130.6
Lat/Lon : 45 47.13/84 40.13
Depth : 35-105 feet.
Visability : 5-20 feet depending on current conditions.
Tips : Use extreme caution when penetrating the wreck due to disorientation problems.
This site is buoyed on the bow and on the stern.
Eber Ward
Location : In Lake Michigan, northwest of Mackinaw City.
Type : 213 Ft Wooden-hulled steamer.
Loran : 31253.6/48096.7
Lat/Lon : 45 48.13/84 49.04
Depth : 130-140 feet.
Visability : 10-15 feet.
Tips : Watch for currents and use extreme caution at this depth. This site is buoyed.
Sandusky
Location : About 5 miles west of Old Mackinac Oint in Lake Michigan.
Type : 110 Ft Wooden-hulled brig rigging sailing ship.
Loran : 31261.8/48100.9
Lat/Lon : 45 48.09/84 50.06
Depth : 85 feet.
Visability : 10-30 feet.
Tips : This wreck is watched closely. Don't consider removing even the smallest of artifacts.
This site is buoyed.
Personal Note
There are many hotels and campsite on both sides of the bridge. With the hotels, it is better to get reservations before the trip and watch for holiday weekends as prices skyrocket. Mackinaw Island is a nice side trip after the dives.
---

Return to Dive Sites
http://members.tripod.com/cavdvr/straight.htm
Last revised on June 19, 1999