Florida Springs.
North Central Florida
---
Call it the "Ginnie Springs reflex." First-time diving visitors to these north-central Florida springs usually stick their heads under water only to bob back up with an awestruck expression, muttering something really profound, like, "Wow!" The late Jacques Cousteau was a little more articulate at his first glimpse of Ginnie. The voluble Frenchman emerged with this observation: "Visibility - forever." The headpool at Ginnie (originally Jennie) Springs - a few miles outside of High Springs, Fla. - is large, crystal-clear and inviting.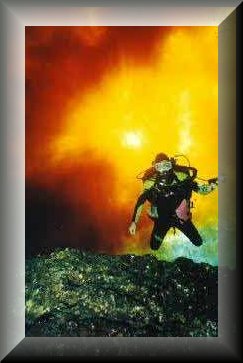 At 18 feet, a large sand floor leads to a pair of cavern openings, both of which take you into a 60- by 70-foot room. Dropping down to 60 feet, you find the barred-off entrance to the Ginnie cave system, from which a wind-tunnel-force flow relentlessly emanates as your companions' dive lights dance bluely around you in the uncannily transparent water.
Ginnie is the best-known of dozens of springs, sinks and blue holes in and around the Suwannee, Ichetucknee and Santa Fe rivers in this section of the Sunshine State. Like Ginnie Springs, several other local dive resorts have been set up for the convenience of open-water divers. Devil's Den, near Williston, is a cavern 25 to 50 feet deep, with an impressive 40-foot circular opening some 60 feet beneath the surrounding ground. Nearby Blue Grotto is an 80- by 20-foot cavern with depths of nearly 100 feet and - joy of joys - a hot tub overlooking the spring. Madison Blue Springs in Lee is a 70-foot basin on the banks of the famous Suwannee River, containing a 20- by 30-foot cavern at the 30-foot level, which goes on into a maze of cave passageways that are for trained cave divers only.
Training has a lot to do with the area's popularity. The springs of central Florida are the world's most popular for cave and cavern diving instruction. Area proponents like to boast that a Florida-trained cave diver can handle caves anywhere in the world once they've mastered the fire-hydrant-fast water coursing through the Florida limestone.
One area shop estimates that 90 percent of divers visiting the area either have or will seek cavern training - the minimum skill level necessary to carry lights legally in state-run caverns and springs like Orange Grove and Peacock Springs. Some dives, such as Little River, outside Branford, are closed to all but certified cave divers. Many cavern divers who take the two additional courses necessary to become "full-cave" certified still return year after year to explore the labyrinth passages of springs like Devil's Ear (accessed from the Ginnie Springs complex) and Peacock.
A Good Source for Central Florida Springs.
Location
North-central Florida. Ginnie Springs, Blue Grotto and Devil's Den are all found off Hwy. 27 between Ocala and Mayo, Fla. Madison Blue Springs is located outside the town of Madison, Fla., off Hwy. 90.
Water Temperature
Water temps in most springs hover near 72F year-round. Balmy as this sounds, 72F water feels downright chilly after just a few minutes. The high flow of many springs carries body heat away rapidly. Wear a heavy wetsuit with hood or a dry suit.
Profile
Visibility is 100 feet or more unless there is river overflow or silt stirred up by divers. The main caverns of most Florida springs tend to be shallow, ranging from 30 to 70 feet deep. Divers should use caution when diving the springs, and never venture beyond ambient light. Heed all warning signs against entering caves and tunnels that are off-limits to all but certified cave divers.
Operators
Ginnie Springs, (800) 874-8571; Madison Blue Springs, (904) 971-2880; Blue Grotto, (352) 528-5770; and Devil's Den, (352) 528-3344. General Florida travel information is available from the Florida Division of Tourism at (904) 488-5607.
Area Lodging Local Hotels.
Springs and Caves that I have dove in the area.

Kings Cavern
Twin Sisters
Located near High Springs, Fl.
Cost is $24.00 for Open Water divers, $18.00 for Certified Cave Divers


Ginnie Springs Cavern
Devil's Eye / Devil's Ear Cave
Little Devil Cavern
Ward's Sink

Located off of State Road 52 east High 19 or west of Interstate 75 to Shady Hill Road north to Helen K road, turn left on on Helen K and follow to the gate.

Dive Fee is $20.00 per day.

Ward's Sink, January 1999
Photo by Thaddius Bedford




Personal Note
Ginnie Springs is a must for all divers. Lodging is available in the High Spings area. Camping is available at Ginnie Springs. There are many smaller divable caves in Northern Florida, near Live Oak.





Little River Cave, September 1998




---




Return to Dive Sites




http://members.tripod.com/cavdvr/springs.htm
Last revised on June 19, 1999