Red Granite Quarry.
Red Granite, Wisconsin
---
Site Information
Lake Red Granite is a gravel quarry located right in the town of Red Granite Wisconsin. Roughly 4 hours north of Chicago, on Wisconsin Highway #21, (or 30 miles west of Oshkosh) it is a truly unique lake. Lots of Bass, and Sunfish hang around the vegetation making for some enjoyable underwater photography. And don't forget to locate the sunken boat and snowmobile! The lake is 238 feet deep with most diving taking place in 30 - 90 feet of water. The depth of the quarry contributates to very 'cool' water, even in the summer time.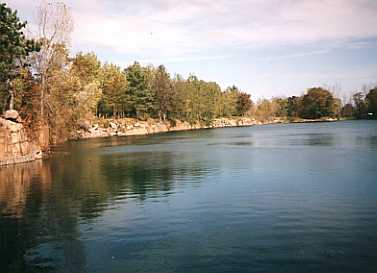 Normal visibility is around 20 to 30 feet and is a great place to dive for the novice or the experienced diver!
If you are into camping then be sure to stay at the Flannigan's Pearl Lake Campground. They have a special area for divers called "the Oaks" and the price is right too! In the Oaks you are quite a distance from the regular campers so staying up past 10:00 PM and getting "a little noisy" is never a problem!
There are some nice family cafe's in town too so you are able to have a good hot meal to warm you up after a dive. As of this date (Jan 1996) there is no air fill station located in town so plan on a trip to Appleton for air, or bring extra tanks!
Directions
From the Chicago area, take either I-294 or I-94 north to Wisconsin and to Milwaukee. In Milwaukee take the I-894 west and then north around Milwaukee, following the US-45 north signs. Take US-45 north until the road splits with US-41. Follow US-41 north past Fond du Lac and into Oshkosh. At Wisconsin State Road 21, exit and turn left (west) and follow for about 40 miles to the town of Red Granite. The quarry will be on north (right) side of the road in town. Look for what looks like a small lake on the right side of town. I have found that diving from the north side is the easiest way to enter the water with full gear.
Personal Note
Sulfer layer started around 85 feet. The bottom is littered with tons of cans and bottles and even clothes from skinny dippers. There are 2 small boats near the north side of the quarry which is the easiest to enter (there isn't any easy spot to enter.) No local air fills available.
Statistics
Maximum Depth
250 ft.
Maximum Visibility
15-30 ft.
Temperature Range
42-70
---

Return to Dive Sites
http://members.tripod.com/cavdvr/redgran.htm
Last revised on June 19, 1999