Pearl Lake.
South Beloit, Illinois
---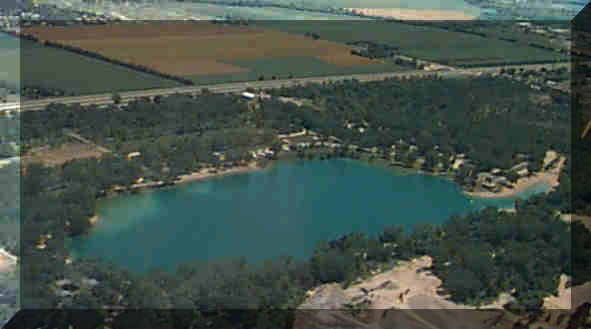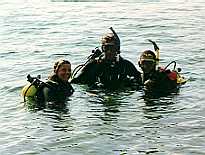 A privately owned and operated "resort", Pearl Lake has much to offer both divers and non-divers. There's fishing, swimming, and diving! Just 1 1/2 hours from Chicago, it's a great place to get wet. Numerous items have been sunk for diving pleasure:
Boats, an airplane, two man sub, rail road tracks, concrete pipes, and even a school bus! Fish and clams are in abundance. Average depth is 35 to 40 feet, max. depth 85 feet. There is an entrance fee. Open from 8:00 am to 10:00 pm. Flag not needed, certification card required. There is a restaurant, bar, rest rooms, changing rooms, and showers at the lake. Plenty of hotels in the area, as well as camping at the lake.
From Chicago: Take 90/94 towards Rockford to 75. Exit on 75 North. Pass the first intersection and turn left at the frontage road (at light). Follow road to Pearl Lake Supper Club, sign in and register.
You must check in at the Supper club. Entrance fee is $12.00. Pearl Lake's bottom is mostly sand, silt and mud so be careful not to stir it up too much. There are may submerged objects, such as a bus, an airplane, an one man submarine, boats of all sizes and types, and dive platforms. There is pleanty of wild life besides the divers. There are fresh water claim (please do not kill tem, they help keep the lake clean), snails, perch, walleye, bass, panfish (bluegills, etc...) and catfish.

If you enjoy camping, Pearl lake has camping area next to the lake. For none divers, there is a swimming hole and a concession stand attached to the supper club.

Pearl lake is open on weekends April till May and seven days a week from May until November 1. During off season call ahead.

Air fills are available on the premises. Price is $8.00 per tank.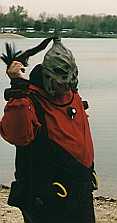 Pearl Lake Club
Highway 51
South Beloit, Illinois 61080
(815) 389-1479
M A P
Pearl Lake Map Map of Pearl Lake.
Area Lodging
Area Lodging Local Hotels.
Personal Note
There is camping available at Pearl Lake. I find diving is best very early in the season (April-May) where visability has been know to be in the 60-80 ft. range. When visability is good, this is a fun and exciting place to dive. Don't forget to look else where in the lake, as there are many unchartered objects in the lake. (Look for the coffin and snowmobile!).
Statistics
Maximum Depth
70 ft.
Maximum Visibility
35 ft.
Temperature Range
42-74
---

Return to Dive Sites
http://members.tripod.com/cavdvr/pearl.htm
Last revised on May 23, 2000