France Park.
Old Kenneth Stone Quarry
Logansport, Indiana
---
Site Information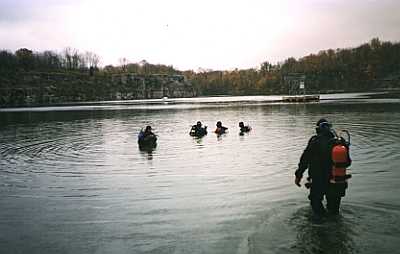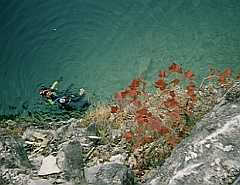 Have you ever seen a Paddle Fish? How about fresh water Jelly Fish? Fance Park (sometimes called Franz Park) has these and more! Maximum depth is 35 feet, with visibility averaging 10 to 25 feet. A rock quarry, France Park has stone walls, a rock and sand bottom, and unusually warm water (sometimes up to 70 degrees!). There is also a snack shop, water slide, meeting area, and more. Open for diving from 9:00 am to 11:00 pm.
Night diving requires a 24 hour advance notice, and can only be Sunday through Thursday. Admission to park is $2.00. Camping at lake and nearby. Several area hotels. Air on weekends only. Certification card required. Dive flag is not needed here.
Directions
(From Chicago)
Take Interstate 294 south to Interstate 80 east to Interstate 65 south. Exit at US 24 (exit 201) and turn left (east). France park is about 40 miles east, Take US 24 thru Monticello for about another 20 miles on US 24. Watch for the sign on the right (south) side of the road. If you make to Indiana State Road 35, you passed France Park.
Owned & Operated by
Cass County Parks & Recreation Department
4505 West US 24 West
Logansport, Indiana 46947-9083
(219) 753-2928
France Park Web Site.
Scuba Diver Must:
- Sign the parks liability waiver.
- Present certification card.
- Pay $5.00 special activity fee
- Dive with a buddy.
- Nights on weeknights only with 24 hr. notice
| | | |
| --- | --- | --- |
| | | |
| Train Wheel | Tim exploring the waterfall. | Inside the bus. |
M A P
Old Kenneth Stone Quarry Map of France Park Lake.
Personal Note
This is a shallow dive site, depth 27, but there is lots to see, with the paddlefish and the other fish. Explore other parks of the park with many hiking trails and a wonderful waterfall. Camping is available in the park. Motels are available in Logansport and in Kokomo.
Statistics
Maximum Depth
27 ft.
Maximum Visibility
10-20 ft.
Temperature Range
50-70
---

Return to Dive Sites
http://members.tripod.com/cavdvr/france.htm
Last revised on June 19, 1999